Saifee expedition, October 1999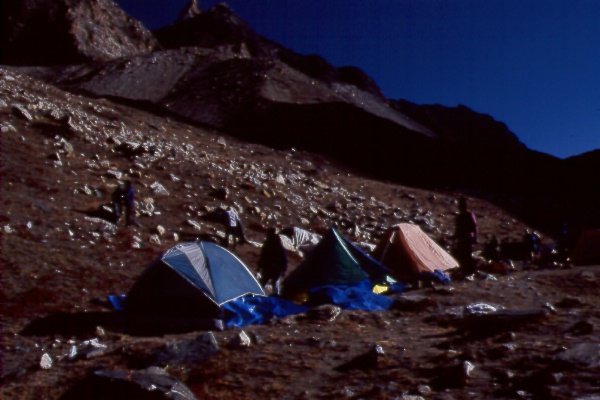 Rakta van was probably the most dreary campsite in the entire expedition. And to make matters worse, we were all only
halfway into the expedition, already loosing patience, the weather was biting cold and becoming colder each day. Rana
bhai and Paresh always advised us to take a bottle of hot water to bed and drink it before going to sleep to keep the cold
away. I had an insulated bottle that the schoolchildren in Pune use to take cold water to school and the bottle does a
good job of keeping the water cold, or at least I have not heard any complaints from anybody so far. I filled up the bottle
with hot water the first night and got in smugly into the sleeping bag, having beaten Andy at chess by inventing new rules
whereby I ended up having two queens. Andy resorted to reading a novel to get over the blues and I resorted to sleep.
We were woken up in the morning and I told Andy we didn't need to get out of the tent to get hot water since I was very
smart and carried an insulated bottle. Much to my consternation I found that the water had frozen INSIDE the bottle
overnight, and I suddenly felt even colder. I cursed the bottle manufacturer and looked up the name. There, in ornate
fonts, was the name of the brand - Ice cool.